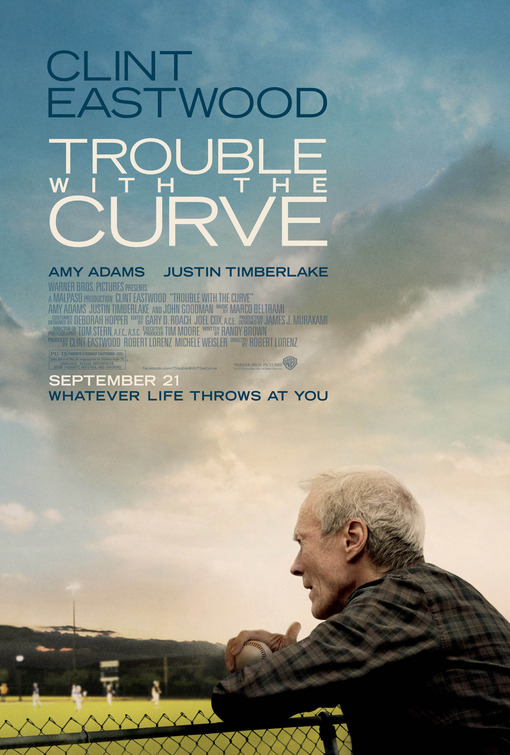 Do not be fooled by the trailer. Trouble with the Curve is far from just a movie about baseball.
Gus (Clint Eastwood) is a baseball scout who is getting on in his years. When Phillip Sanderson (Matthew Lillard) sets out to force him to retire, Pete Klein (John Goodman) tries to help by convincing his daughter, Mickey (Amy Adams), to go with him to North Carolina to help him out. However, father and daughter do not get along as well as they used to. Gus is stubborn and closes up every time Mickey tries to get him to talk about anything to do with feelings. But with a little help from Gus's colleague, Johnny (Justin Timberlake), the rift that has driven them apart may just begin to close.
I had wanted to see Trouble with the Curve since the first time I saw the trailer. Although it was about baseball (and I'm not a sports fan at all) I still thought it looked pretty interesting. Not to mention I think Clint Eastwood and Amy Adams are amazing. It's definitely not all about baseball, either. As my fiancé put it, it's a chick flick with just enough sports in it to make it OK for a guy to watch. It has a very strong father/daughter relationship theme, as well as dealing with growing up. There were certain scenes that I think could've been left out completely, and some of the lines were predictable or corny.
Overall, it was a pretty good movie, but definitely not on my best movie ever list.
Grade: B